Back
More about this specialist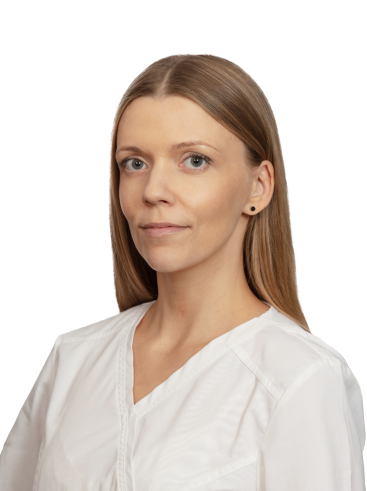 Sandra Pranca
Beautician
Performs all types of medical and cosmetological facial skin aesthetic procedures, provides consultations. In practice, an in-depth analysis is applied and a plan is developed for solving various facial skin conditions for both adults and teenagers. Cooperates with dermatologists and performs problem skin therapy. Performs both manual procedures (mechanical cleaning of the skin, classical and lymphatic drainage massage) and various types of machine procedures (ultrasound peeling, diamond microdermabrasion, sonophoresis, radio frequency, DermOxy oxygen therapy and Pollogen Geneo). Offers chemical peels (AHA, BHA), various injection methods (mesotherapy, biorevitalization) and laser hair removal procedures.
Provides paid and paid services of insurance companies.
You can also make an appointment with a specialist on the telemedicine website pierasta.lv
Education and work experience
2009

Graduated from the Business School "Turība" with a bachelor's degree in public relations

2010

At the "International Training Center" she learned the basics of classical, lymphatic drainage and honey massage, obtaining a certificate

2011

She has mastered Ayurvedic point massage, obtaining a certificate from the Association of Holistic Medicine and Naturopathy

2020

Graduated from the "Professional Beauty School", obtaining a state-accredited diploma in the specialty "Facial Care"

2022

Graduated from the International CIDESCO Riga School of Cosmetology

2023 -

Beautician "Veselības centrs 4" in company "Liora"
"