Back
Peeling
Peeling is a procedure that helps get rid of dead epithelial cells, improves skin tone and stimulates natural cell regeneration. Nowadays, various types of peeling are available for home conditions as well, however, it should be remembered that the skin of the face is particularly sensitive – improperly performed mechanical or chemical peeling can cause unpleasant skin reactions. Therefore, it is recommended to discuss the type of peeling that is most suitable for you with a cosmetologist.
Depending on the customer's aesthetic goal and facial skin characteristics, 4. Dimensija clinic facial aesthetics specialists will recommend the most suitable peeling type and course of procedures:
mechanical – improves blood circulation, removes dead skin cells, restores skin radiance. Mechanical peeling is performed with cosmetic products or special equipment (microdermabrasion).
chemical peeling – restores the skin's texture, acts on acne, corrects the effects of photo- and chrono-aging of the skin:
superficial – affects only the stratum corneum of the epidermis. The following agents are most often used: AHA, BHA, PHA, phytic acid, retinol;
medium – affects the epidermis to the basement membrane. The most popular treatment is TCA;
deep – affects the dermis. Deep chemical peeling is performed by a doctor;
enzyme peeling – gently removes dead skin cells, reduces pigmentation spots, cleans pores;
ultrasonic peeling – pores are cleaned and excess sebum is removed.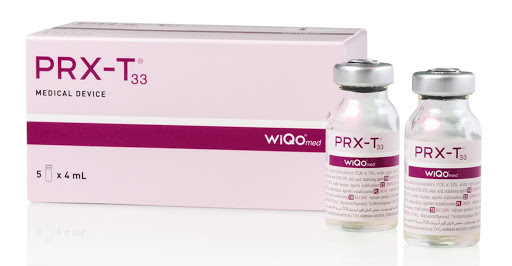 PRX-T33 peeling with biorevitalization effect
WIQO med (Italy) patented preparations PRX-T33® give peeling a biorevitalizing effect. PRX-T33® is an innovative formula for skin care that intensively stimulates skin regeneration processes without damaging the epidermis. The combination of ingredients of the preparation – 33% trichloroacetic acid (TCA), hydrogen peroxide and kojic acid restores the skin without peeling the top layer of the skin, strongly stimulates the synthesis of collagen and the renewal of the cell structure.
Advantages:
non-invasive biorevitalization;
unique formula;
immediate effect.

The PRX-T33® procedure is a suitable solution for both immediate skin vitality and full-fledged, long-lasting skin renewal, combining the course of procedures with aesthetic device procedures and injections.
Contraindications:
acute skin inflammation and diseases;
individual intolerance of preparations;
open wounds in the treatment area;
increased skin sensitivity.
Prices
Prices for "4. Dimensija" services
Facial skin treatments
Peelings
TCA peeling (by medical indications)
50.00-70.00 €
Aesthetical peeling (by medical indications)
70.00-130.00 €