Back
Dry hydromassage with Aquatizer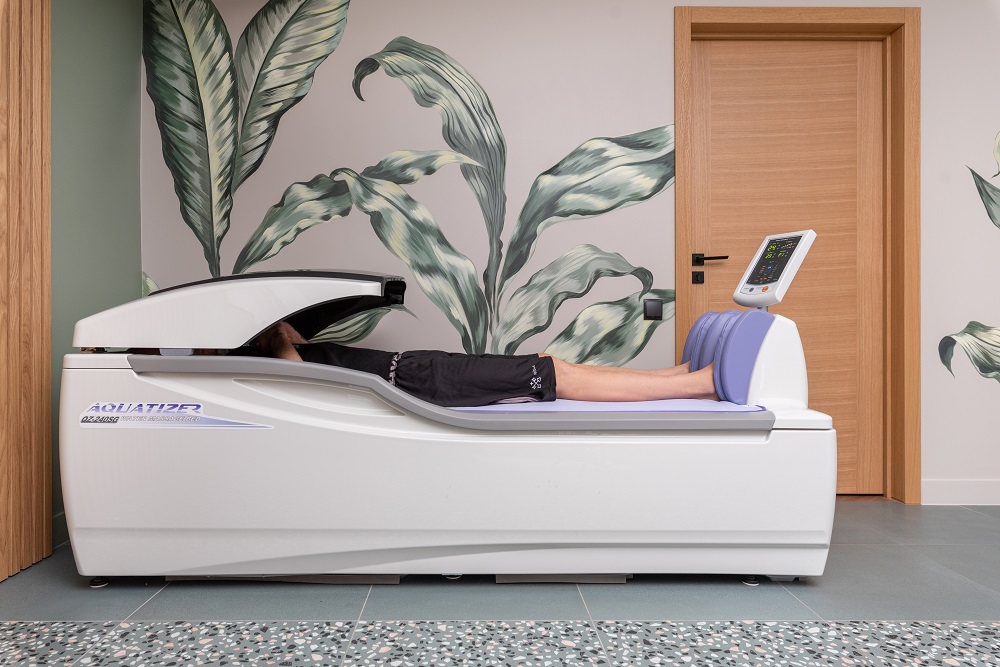 Is it possible to achieve the gentle hydromassage effect without getting wet? Yes! The clients of the aesthetic medicine clinic "4. Dimensija" now have the opportunity to experience the healing and soothing power of water without changing clothes and getting wet. Hydromassage bed from Aquatizer (Japan) allows you to enjoy the massage without the masseur and the usual preparation for the procedure. This is a great procedure for busy people to enjoy the relaxing effect of the massage at the same time, but not to waste precious time changing clothes and not risk catching a cold, which is especially relevant during the winter.
When can dry hydromassage be suitable?
During the massage, the venous and lymph flow is stimulated, as well as the healing processes are promoted. Hydromassage helps relax the tension points in the muscles, relieving muscle pain and tension and improving the range of movement. In addition, the slightly smooth feeling of being in a water bed calms and relieves tension. Dry hydromassage will also be useful after intense sports and exercise.
Dry hydromassage may be appropriate in the following cases:
neuralgia;
muscle pain;
back pain and shoulder tension;
recovery from exhaustion;
improving muscle tone;
promotion of blood circulation.

Effect of the dry hydromassage:
pain relief;
muscle tension reduction;
joint relief;
improved blood circulation and lymph flow;
reduced stress and anxiety;
well-being and deep relaxation.

How does dry hydromassage work?
The hydromassage bed is a specially equipped couch with a special mattress and four water jets, which can be set according to the selected massage mode. During the procedure, the client lies fully clothed on the couch. The mattress of the sleeping surface is filled with heated water. The pump drives the warm water through rotating hydro jets. Dry hydromassage includes both superficial and deep tissue massage. Floating sensation, combination of heat and massage provides a soothing and therapeutic effect.
It is possible to set different massage modes for specific areas of the body for the Aquatizer hydromassage bed:
the back of the entire body;
different leg areas;
different areas of the back.

Advantages of the Aquatizer hydromassage bed:
individually customizable massage programs according to body areas and customer needs, achieving the maximum beneficial procedure effect;
hydromassage bed reduces the load on the joints, allowing the body to completely relax;
the Aquatizer hydromassage bed is equipped with a sensor to determine the position of the client's head and body height. This sensor fully automatically measures body height and sets the optimal massaging area;
extra soft air cushions cover the feet, keeping the legs and therefore the whole body in an optimal position for maximum comfort during the massage.

Contraindications:
cardiovascular diseases;
high temperature, fever;
inflammation (e.g. phlebitis), acute inflammation;
severe varicose veins;
bruises, wounds, acute skin diseases;
pain during massage;
joint swelling;
oncology.
Prices
Beauty Institute "Liora"
Body care
Aquatizer water bed 20-30 min.
20.00-30.00 €